Company
Profile
LiDestri Food and Drink
If this is your company profile and you wish to update its information, click here.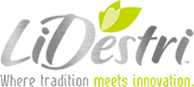 Submit an RFQ to this company
Information About LiDestri Food and Drink
Who We Are
From co-founder and CEO Giovanni LiDestri through our management team, LiDestri has always seen our customers as collaborators and strives to build meaningful, long-term partnerships. Seeing business through that lens helps LiDestri's team focus on building relationships and valuing the long term, which is why our partners will testify that we go above and beyond to help them succeed.
LiDestri has deep experience running a state-of-the-art manufacturing facility, but being a risk-taking, family company is our true strength.
While some corporate competitors are pressured by shareholders to focus only on the near-term bottom line, LiDestri is privately held, which gives our team the freedom to experiment, take risks and put exemplary service, accountability and fostering long-term relationships above all else.
Partnering with LiDestri means customers get our deep experience and rock-solid supplier relationships in their corner. They also get access to our Innovation Center, an R&D playground run by professionals whose inventiveness is firmly grounded in knowing what it takes to scale up. LiDestri is one of the most comprehensive contract manufacturers in the United States, offering substantially more than its competitors in food, beverage and spirits.
packaging
Bag-in-Box, Glass Bottles, Glass Jars, Metal Cans, Plastic Bottles, Pouches
certifications
AIB, FDA, Gluten Free, Kosher, Organic, Project Non GMO, SQF, USDA
services
Benchtop, Formulations, Hot Filling, Labeling, Liquid Filling, Nitrogen Flush, Package Design, Pilot, Product Manufacturing, Promotional Packaging, Tote Filling
processes
Aseptic Bottling, Cold Fill, Frozen, High Acid, Hot fill, HPP, IQF, Liquid Filling, Low Acid, Refrigerated Cold Chain, Retort
products
Beverages
Alcoholic, Carbonated, Dairy Products, Functional Beverage, Spirits, Water
Food
Frozen, High Acid, Low Acid, Sauces / Dips / Spreads / Dressings, Shelf Stable
What We Do
LiDestri has 40 years of experience in sauces, salsas and dips, and, more recently, has added processing and packaging capabilities enabling a wide range of beverages and spirits products. Our state-of-the-art facilities and talented production team are growing increasingly comprehensive in the food, beverage and spirits products we can create for our national brand and retailer brand partners throughout the U.S.
Packaging and Processing
Glass Bottles and Jars
Sizes Processing/Location
Jars: 1.5 oz. - 44 oz. square or round
Bottles: 50 mL - 1.75 L Hot Fill — Fairport-NY, Rochester-NY, Fresno-CA
Retort — Fairport-NY, Fresno-CA
Cold Fill (Oils, Vinegars, Cooking Wines and Spirits) — Rochester-NY
Cold Fill (Bottles) — Rochester-NY
Plastic Jars, Jugs and Bottles
Sizes Processing/Location
PET:
Food: 24oz. and 45oz.
Beverage: 16oz., 18oz., 32oz., 45oz. and 64oz.
Bottles - Various Sizes:
Half gal. and 1 gal.
Tubs - Various Sizes:
8oz., 15oz. and 20oz. Hot Fill (Foods) — Fairport-NY, Rochester-NY, Fresno-CA
Cold Fill (Oils, Vinegars, Cooking Wines, Spirits and Beverages) — Rochester-NY
Cold Fill (Beverages) — Landsdale-PA
Cold Fill/HPP — Rochester-NY
Aseptic/Extended Shelf Life (Beverages) — Pennsauken-NJ
Additional Packaging Offerings
Club Packing
Custom Pallet Displays
Food Safety and Quality
Food Safety Systems Online Quality Systems Certifications
All facilities GFSI certified:
• SQF Food Safety Code Certification
• SQF Quality Code Certification
HACCP
FDA/GMP/Allergens
Full Product Traceability/Recall Program
Site Security
Third Party Auditors
AIB Unannounced Audits
In-Line Finished Goods X-Ray Inspection
Filters and In-Line Magnets
Pipeline Metal Detectors
Fill Weight Monitoring
Inkjet Jar Coding
Vacuum Testing
Headspace Verification for Retorted Products
Online Dud Detection
USDA Beef and Poultry
Kosher — OU Certification
Organic — CCOF Certification
Custom Formulations
Product Capabilities
Sauces, Foods and Oils
Sauces Oils,Condiments Salsas, Dips and Soups
Pasta Sauces
Alfredo Sauces
Clam Sauces
Chili Sauces
Cocktail Sauces
Mexican Sauces
Asian Sauces
BBQ Sauces
Grilling Sauces
Culinary and Finishing Sauces
Specialty and Custom Sauces
Hollandaise Sauces
Cranberry Sauces
OILS:
Cooking Oils
Basting Oils
Vinegars
CONDIMENTS:
Ketchup
Mustard
Pesto
Spreads
Syrups
Salsas / Picantes
Salsa Con Queso
Soups
Bean Dip / Other Dips
Beverages and Alcoholic Drinks
Juices and Nectars
Smoothies
Teas
Lemonades
Functional Waters
Fresh Apple Cider
Drink Mixers
Cooking Wines
Wine Stock
Spirits
Liqueurs
Coolers
Ready-to-drink Cocktails
Job Postings
LiDestri Food and Drink
All
If this is your company profile and you wish to update its information, click here.