Company
Profile
The Rob Salamida Co.
If this is your company profile and you wish to update its information, click here.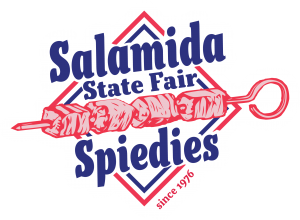 Submit an RFQ to this company
Information About The Rob Salamida Co.
Who We Are
Yes, It Really Began On A Pool Table.
By all accounts, Binghamton, NY is where spiedies, marinated cubes of skewered meat grilled and served on a slice of Italian bread, were the favorite food of picnics and backyard cookouts. Many people credit the Italian immigrants for introducing the sandwich made with lamb and later choices included beef, pork, or chicken. The homemade marinade made it delicious, soaking into the meat overnight and then creating a mouth-watering aroma as it dripped into the hot charcoals. Only a few restaurants began selling them and people always commented that you could never find spiedies outside of Binghamton.
At fifteen years old, Rob Salamida, at a summer job at a neighborhood deli, was given the task of cooking spiedies outside the entrance for customers to buy. The lessons learned turned into his own enterprise a few years later to earn money for college by setting up a grill in front of a popular tavern. A customer inspired him, "You should have a chain of restaurants selling spiedies." He tested the idea by getting a food booth at the New York State Fair in 1971 and had some success even though most people couldn't correctly pronounce the word (spee-dees).
After college, he worked in marketing at Procter & Gamble but wanted his own business and returned to the Syracuse Fairgrounds. The first morning a tremendous storm hit hard, nearly blowing his temporary stand into the air. Rob was soaked to the bone and felt regret for his career change. He recalled asking his supervisor if he quit the company to start his own business and if it didn't work out, could he return to his job. A cold no was the last word.
While he cleaned up the damage to his booth an idea struck to sell the marinade to the public and let them make spiedies at home instead of going to a restaurant. With no experience in manufacturing, Rob set up a hand-filling operation on a covered pool table in his parent's basement rec room. He delivered cases of bottled Salamida's State Fair Spiedie Sauce Marinade to local stores out of the trunk of his Chevy Malibu. The rest is history. Since 1976 his family business has sold over fifty-two million bottles of his marinades that now are in over ten thousand stores across the United States.
If this is your company profile and you wish to update its information, click here.