Paul Guglielmo of Guglielmo's Sauce: Featured Business Owner of the Month
Guglielmo founded his small business in 2014, based in the Greater Rochester region, called Guglielmo Sauce, a line of 15+ marinara sauces.
"I can trace this recipe to at least the 1930s. My Great-Grandmother Mary Petrocelli-Guglielmo was raising a family of 10 between herself, her husband, and my Grandpa Pete and his seven brothers and sisters. It was The Great Depression and any food that could be grown instead of purchased was preferred. For that reason, my Great Grandma maintained a garden, in place of her yard. Every inch of the yard was dedicated to growing some sort of fruit or vegetable."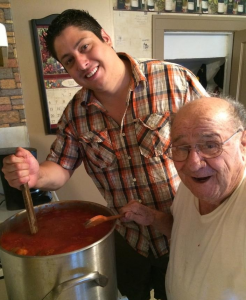 Read Guglielmo's Full Origin Story Here
The product is available in over 500 stores, including Wegmans, Tops and Whole Foods.
And Growing
Paul recently purchased food manufacturing facility Permac Enterprises Inc. located in Bergen, NY of Genesee County.
The transaction took place in early May, 2020. Permac is one of only six USDA cannery manufacturing plants in New York State and specializes in taking recipes from individuals, restaurants or food production brands, and adjusting it for large production.
As CEO, Guglielmo will manage all operations, marketing, production, sales and business strategy and growth for the organization, and will continue his role as CEO of Guglielmo Sauce.
"I'm living out my dream" said Guglielmo. "I started Guglielmo Sauce in 2014 and it grew beyond what I ever could've imagined. Today I own a well respected, well-oiled manufacturing facility; the one that helped me start Guglielmo Sauce on Day 1."
"Permac was my first partner. This team is a group of some of the hardest working partners and I'm excited for the opportunity to lead our team, grow this manufacturing facility, and turn out great product for stores and customers across the markets we serve."
What's Next?
Paul will announce the new name of the Manufacturing Facility later this summer/fall, and invites restaurant professionals/entrepreneurs/foodies with a product and looking to have it canned/jarred/bottled, please call him (cell is 585-350-5788) and consider Permac (new name coming soon!) for production of more great products!
Upcoming Fireside Chat
ANYSFP will be hosting a virtual fireside chat with Paul on September 23rd and we invite you to join.
Would you like to be featured in an upcoming ANYSFP newsletter? Know of a newsworthy company that deserves some praise? Please email Tom and we will set up the details.
ANYSFP Membership
Join before September, and get the rest of 2020 and all of 2021 at the regular rate.
The membership rate is $400.00 per year, per company. 
The rate covers an unlimited number of employees — the more you engage your team, the more value you will get out of this membership!  You do not have to pay for additional seats.
The Associated New York State Food Processors offers many networking events, educational programs that are available for your company to attend.
Additionally, the web tool allows you to earn new business from companies who are searching for products & services in the food processing space.
Please contact us for more information on individual membership.
Unveiling the Packaging Corporation of America: A Leader in Sustainable Packaging Solutions
In today's dynamic and environmentally conscious world, packaging plays a pivotal role in product presentation, preservation, and sustainability. One company…
Ithaca Hummus Announces New Fire Roasted Salsas
Ithaca Hummus, the crave-worthy hummus brand known for its fresh ingredients and bold flavors, announces its Fire Roasted Salsas, a…
ANYSFP Members Team Up to Provide Accessible Options for Consumers
Consumer Convenience Technologies (CCT) created the EEASY Lid, the first jar lid innovation in over 75 years, following eight years…